Guillemette Dejean is no stranger to the GEC community.  Hailing from Brittany, France she lived with the Wadsworth family during an exchange program in high school and after she completed her Masters in International Development asked Anne to be a professional mentor to her.   Knowing she was looking to expand her experiences, Anne invited her to accompany her on a trip to Tanzania in May 2015 to be her 'right hand' and she's been an important part of GEC ever since!  She has been a key ally in helping the vision of both the Sisters and GEC come to life. We interviewed her from her current home in Portugal: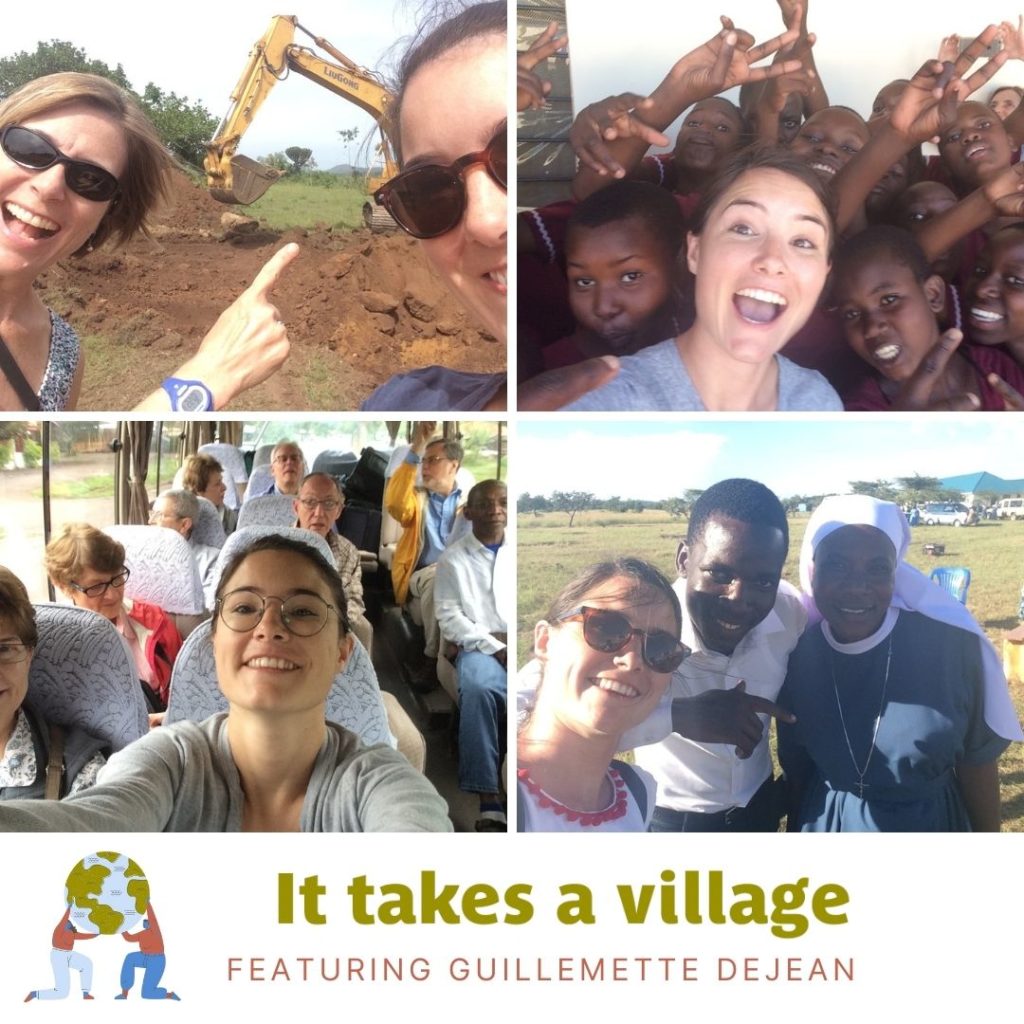 You've been involved with GEC almost since its inception, including visits before the school was even built.  What has your role been and what has it transformed into?
Since joining it has transformed from just being building foundations on a field to its own little village, it's been such a journey.  
Anne and others started GEC in 2012, and I joined her in Kitenga in 2015.  Initially, I helped with being a liaison between the Sisters and GEC and accomplishing many small tasks because her main focus was the construction and pushing the project forward.  I spent a lot of time shadowing her and with the Sisters, working on developing our relationship.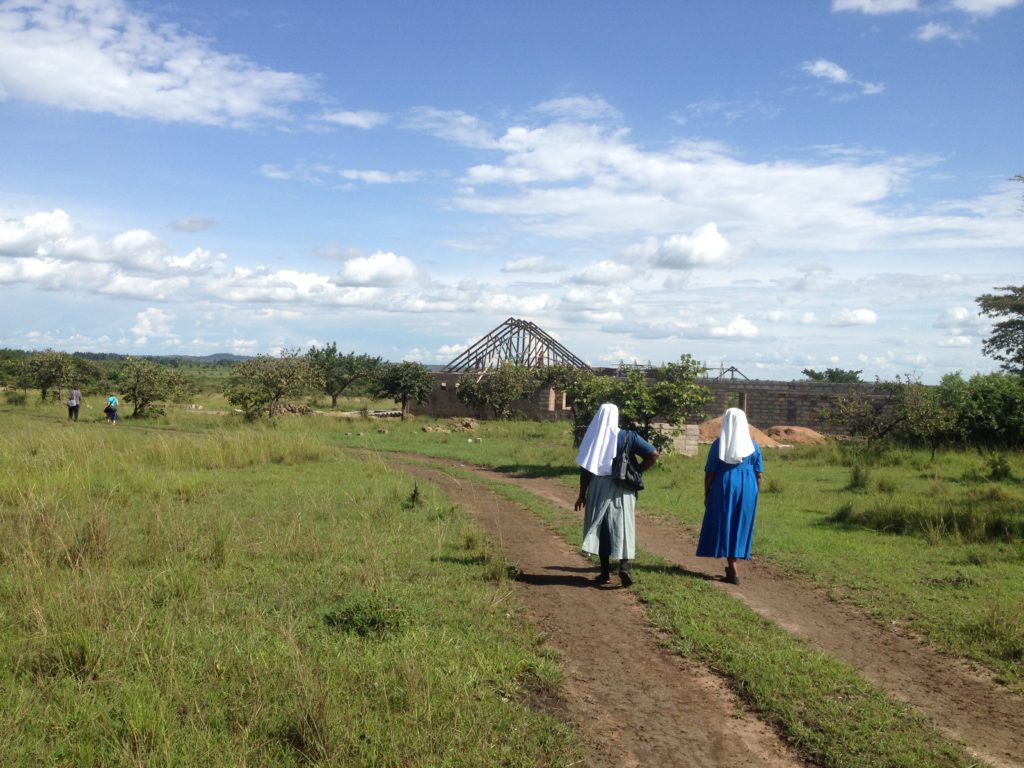 My second visit to Kitenga was just before the school opened in 2017, with the very first class, 'the Pioneers', during their prep program.  At first, it was 15, maybe 20 students and since then it's been booming – more classes, amazing exam results, art classes, there's so much life on campus. 
Today, my role has evolved to a bit of technology training.  Because there's an ocean between Buffalo and Kitenga, communication can be a challenge.  I sit down with the Sisters and teach them how to better use their computers. I have also loved teaching the students French!
Most recently I created a video documentary with Alex, my partner who came to Kitenga the last time, called Sugar in the Tea.  This was a set of interviews with the girls who talk about the value of education, the challenges that they face as well as their hopes and dreams.  To this day it is one of the best things that has happened to me in the past 2 years – maybe COVID plays a part – but to be fair we're really proud and lucky to have that access to be able to speak with the girls and have a blank canvas to create this documentary.  So many people wanted to hear their voices and they got some really strong messages across, all we had to do was listen.  They were so happy to have the chance to speak for themselves and their peers.  It was really quite a moment. 
Looking into the future, the next trip is going to be a combination of tasks – continuing on the media production but we are also hoping to help introduce a digital job skills training program to the students – both Alex and I are in the tech industry in our professional jobs.  It would focus on training them with some very practical and valuable skills for their careers.  There are so many things that are universal – think of when you were a teenager and you had this photography class or this summer camp and this photographer or artist introduced you to it and that's why you became a photographer – these girls are the same.  Given the conditions, there's just so much inspiration and so many options for what this world is made of that they don't get to touch, we want to try to bring some of these little sparks that teenagers are so hungry for.  Even hobbies are an important and creative outlet,  even if they go on to be a doctor they can still have these things that give texture to life and some individuality. 
What motivates you to stay involved?
Undeniably Anne is a huge inspiration and does so much to drive GEC.  She doesn't just inspire me, she inspires so many people and that's quite tangible. I feel like I am very happy to invest effort and time in the work that she does. Being side by side with her is such a learning opportunity and an amazing opportunity.
Also, looking at how far the school has come really inspires me.  When we did the dedication of the library it was just bricks and a roof and now it's blossomed into a well-functioning school, I mean look at the exam results. It works. 
The GEC model really works.  The Sisters do an amazing job of managing the school and GEC helps move things forward with resources.  This school probably would have existed but maybe not until 15 – 20 years' more time and this partnership has accelerated that and realized the dreams of girls for these years that the school was built earlier.
Can you share a favorite story or memory?
It would have to be my third trip, the Pioneers were finally there and doing a prep program, things were not finished, we had no electricity, just tiny solar lamps.  We met the students at night and couldn't see each other but there was so much joy.  Anne and I were floating, just like "Oh my, it's happening!"  The girls started singing a song and I took this grainy, terrible video but it's the happiest moment, we were laughing so much.  The girls were supposed to go to bed but we stayed for hours talking about where they're from and what their dreams are. It was an amazing night.
Why is girls education important to you?
It's a human right. In this day and age, there's no denying how unfair it is that access to education is not equal even if some countries have greater poverty.  Girls and women are always more negatively impacted by hardship and pay the highest price in wartimes or economic downturns.  Education is the foundation of breaking all those reflexes that societies have, it's the foundation for change.
One of the Sisters told me this story recently and it really struck me: we often think that there's such a huge divide, so much work to do and how can one school change anything?  Five years ago, before the school opened, the Sisters had to go family to family in the local village and convince them on why they should put their girls in school.  There were seven village girls that joined the school.  Fast forward four years to when the Sisters opened pre-enrollment to the prep program,  and there was a queue of 40-50 girls from the local village, many with their fathers or grandfathers,  asking the Sisters to take them and put them into school.  That's a four-year span to change people's minds. And we're talking really remote, really local.  It's a statement for these families to say, 'We're not going to marry our girl, we're going to put her in school."  I don't think they came with a flower in their mouth, it's not easy, they're giving up some sort of wealth but also realized it's more valuable to educate their daughter than to take the bride price. The school is working, the model is working. 
Equality in education, so many people believe in it, and yet there are some traditions and forces that keep it unequal.  The Sisters planted the seeds, they were the catalyst to making this change and it's incredible.  Think about it, there are centuries of tradition of not putting girls in school and after four years there are many families offering to put their girls in school.  The world needs people like Anne and the Sisters to say, "We can make it happen."
At GEC we believe it does take a village to make long-lasting change in our world.  It is when we join together across boundaries, cultures, socioeconomic stratas and life experiences to work together towards a common vision for the world—that is where the world becomes a better place.  If you're interested in joining our village, drop us a note.