We are so thrilled to introduce a new series we're calling  'It Takes a Village'.  Each feature will spotlight an individual from around the globe who helps make Girls Education Collaborative the wonderful organization that it is today.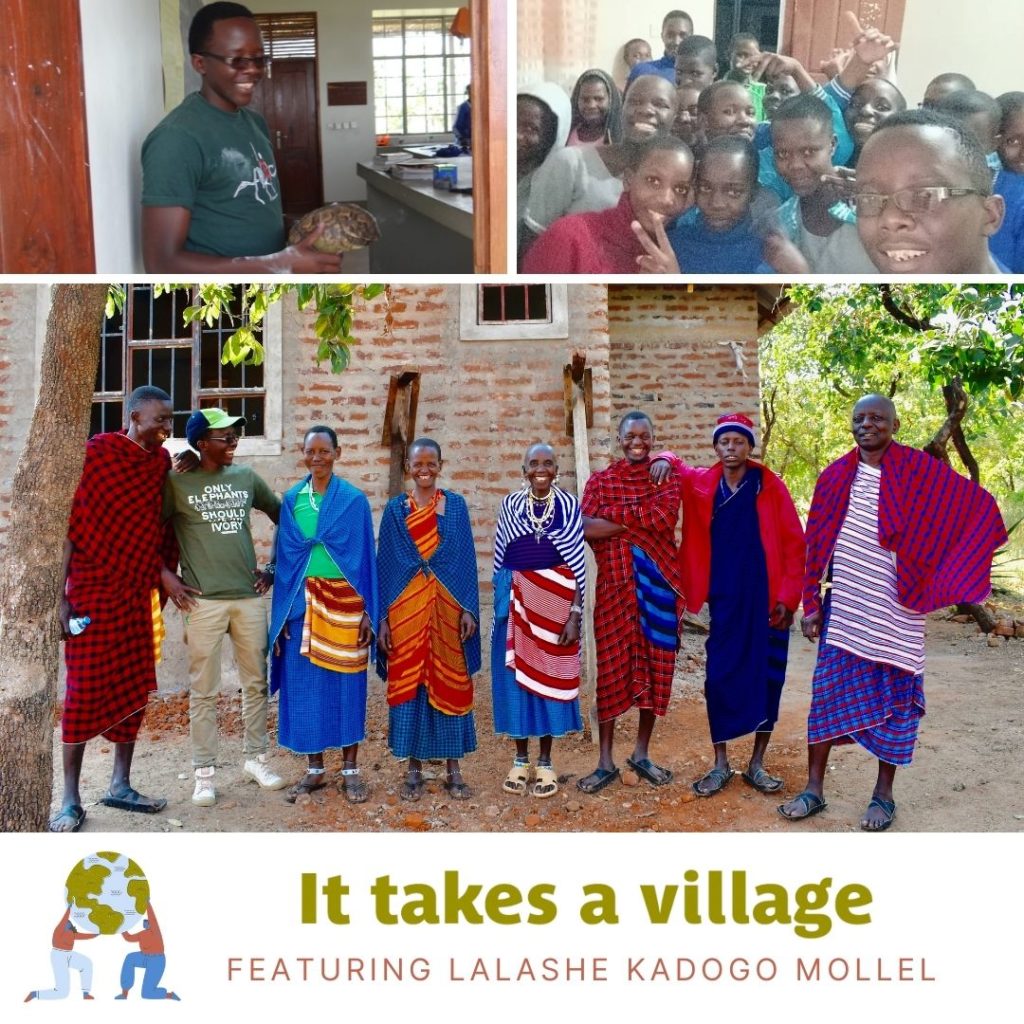 To start, we are featuring Lalashe Kadogo Mollel, a trained wildlife guide, who recently started his own travel and tourism business in Tanzania.  Lalashe was raised in the Maasai tradition and has witnessed firsthand just how critical it is to educate girls.  He fell in love with the mission at GEC in 2017 when he first visited the Kitenga Girls Secondary School and has been an integral part of the Tanzanian team since then.
Lalashe is GEC's right-hand man when it comes to so many things. You can often find him running to the market to buy supplies, followed by teaching a biology class at the school and then driving off into the sunset to safely transport Team GEC across the Serengeti. He brings knowledge, passion and energy to everything he does and that can certainly be felt in everything he does to help the GEC mission.
What motivates you to stay involved?
I believe in girls' education, when you educate girls you educate the whole society. I see all Tanzanian girls when I see these girls in Kitenga. This school encourages girls to love education and gain confidence and has more and more students every year. Girls can do whatever they want as long as they have an education, at school they have somewhere where they can speak what is on their minds and they are really committed to bringing the changes to their communities. 
I see women who are commodities and exchanged for cows. We can make their lives better by sending them to school.  What makes the Kitenga Girls Secondary School so special is that it is run by other women, teaching each other and sheltering each other from common practices like child marriage and female genital mutilation.  I want to give them whatever I can to make them happy and for them to meet their goals.
Can you share a favorite story or memory from your involvement with GEC?
I have so many favorite memories from the students to the teachers. A standout is the love they have for each other.  I can also remember the day we visited the local area to get ideas, the school itself has been such a role model, for people to see something that can impact your life & community. Whenever I go around Kitenga, I see people talking about the girls and themselves thinking about really high-level things to do with their own futures.
You come from the Maasai tradition- can you speak to why is girls' education important to you?
It is very important, I have seen people who are really really suffering.  Many people still think that women can't do anything. In the community I grew up in, women did not get an education, people assumed they should just take care of everything: the children, the home.  People or other tribes take them as a commodity, something you can exchange for a cow or for marriage. The whole world could be so much better when girls get an education, everyone can get educated through them. Maybe two or three girls went to school from my community, the rest were sold into marriage or married. Soon after they are married, their husband stops taking care of them, so it's very easy for them to leave. They may only be 20 years old but they seem 30, because the men are enjoying a beer while the women are taking care of everything. I recently learned about someone I went to school with, she has over 10 kids. 
When they go to school they can speak up for themselves, not just the men speaking for them. I can survive on my own because I have a salary and my own business. But so many women are forced to get married because of their life or poverty. They marry not because of love. Nowadays we have a woman president and it's a good start for girls to realize they can do anything. You can be anybody in the world.
At GEC we believe it does take a village to make long-lasting change in our world.  It is when we join together across boundaries, cultures, socioeconomic strata and life experiences to work together towards a common vision for the world, that is where the world becomes a better place.  If you're interested in joining our village, drop us a note.