My name is Olivia Castiglia, and I am a rising sophomore at Bryn Mawr College where I am studying English and economics.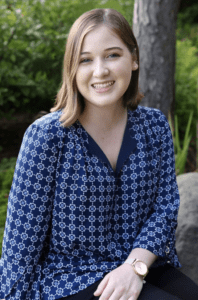 This summer, I am looking forward to learning about the inner workings of a nonprofit. Nonprofits like Girls Education Collaborative provide the unique opportunity to both make a difference and see the impact directly. In the past, I have been on the volunteer side, so I'm excited to transition into the role of an intern. Sometimes when I think of GEC, I only think of the school in Kitenga, but through working as an intern this summer, I am already seeing the various other aspects necessary for GEC to remain operational. Not every research or administrative task may seem particularly glamorous or impactful, but I am learning that they are just as vital for the success of GEC as the school.
Since I started attending college in a pandemic and navigated attending courses online, I learned the importance of a different aspect of GEC—education. The transition from in-person to remote learning was difficult for me, and I was aware of how much I used to take my education for granted, as I could no longer raise my hand in class or hang out with my friends.
For me, the pandemic underscored the significance of GEC's impact on the girls attending the school in Kitenga—providing a dedicated space for girls to not only learn but also create a community.
I have been involved with GEC in small ways since I was twelve years old, and I'm excited to finally play a larger role. GEC's vision of "a gender-equal world where all girls are in school and no longer barred from a fulfilling and life-equipping education simply because they are a girl" has helped shape my view of the world. Before I knew of GEC, I was not aware of the educational disparities between men and women worldwide. Since then, I have been committed to educating myself and others on the topic of gender equality by joining feminist organizations in both high school and college. Organizations like GEC inspire me daily. Worldwide gender equality can often feel impossible but knowing that there are people working hard to change that makes me hopeful for the future.